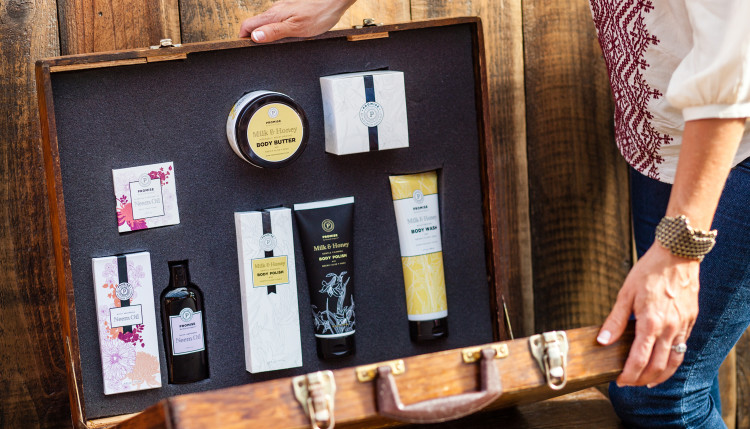 Fresh Packaging Catapults Promise Organic to Launch Exclusively with CVS
Like any good first impression, product branding strategy communicates the core value proposition of your product and sets the tone for your brand. Everything, including your packaging materials (from eco-friendly to ultra-luxurious), your typography and colors (sleek lines versus soft colors or a bold palette), and the images you choose, attract and signal your target audience. Our recent launch of Promise Organic is a living example of how packaging can fuel success and translate your brand from an idea into a reality. Here's how.
PRODUCT BRANDING STRATEGY
When we began working with Promise Organic, we spent time getting to know their products, what sets them apart, and what they want their customers to know about them. Packaging should always be a reflection of these values. When beginning to craft a product and brand narrative, consider these questions:
1. What's Your Brand Tone?
For Promise Organic, we knew we needed to emphasize the beauty of clean, natural ingredients and a holistic approach to wellness. Packaging expresses a brand promise, and we sought to match the quality and imagery of Promise Organic with the natural ingredients inside the bottle.
2. Who Represents Your Target Demographic?
While we don't advocate stereotyping or clinging to outdated gender roles, big data provides a wealth of information about how certain demographics act, where they shop, how they communicate and what words, colors, and images appeal to them. Don't reinvent the wheel. When considering packaging options for Promise Organic, we evaluated where the products would be displayed and who was most likely to purchase, then leveraged trends and data about that segment to make informed creative decisions.
These simple questions helped us create a brand narrative and product branding strategy that explained the Promise Organic difference in a visual language that the target audience could understand.
ORGANIC SUCCESS
When packaging aligns perfectly with your product, success often follows. Merchandising guru CVS picked up an exclusive distribution contract with Promise Organic as a result of a strong brand narrative.
The tone of Promise Organic's brand is clearly expressed through their packaging and product branding strategy, and CVS knew that the product quality matched the packaging promise. The pharmacy chain also knew their customer demographic intersected with Promise Organic's target audience, making the partnership a natural, mutually beneficial fit.
Exposure in large, national chains such as CVS can add credibility to your brand and verify your brand promise through positive association and placement. The way to get their attention is through high-quality packaging that captures your brand and complements other packaging and products in the market.
CALLING IN THE PROFESSIONALS
That's where we come in. When we started Madplum Creative, we built our expertise on a deep love of packaging and thoughtful presentation. Our goal is to turn every product purchase into a delightful experience, not unlike receiving a gift. We treat each package design like the wrapping of a wonderful gift and each brand narrative like a one-on-one dialogue.

For Promise Organic, our goal was to speak directly to their natural skincare audience and create something that stood out from the clutter of other less conscious products available. By drawing inspiration from the delight of spring blooms and the freshness of summer, we developed creative, modern packaging that perfectly captured the brand's tone. We also incorporated the core value of Promise Organic's natural and sustainable materials used within their product.
Each time we partner with a new client, we consider their business objectives, brand tone and product experience before crafting a package design and a strategy for product branding.
---
Posted In: Blog